Hello, dear friend! Welcome to my blog about Health and Happiness! I am thrilled you found my happy place in online world where I share my thoughts, experience and ideas. My hope is that you find the information on this blog valuable and interesting.
About Iryna
My life's slogans are "Never Give Up" and "Always Find Positive Side". In every situation I try to find some positive aspect or explanation that even if I don't understand the reason of this life scenario now, I may see it later. You probably heard the saying "Something happens for the reason"…
In my 20s I moved from Ukraine to Canada with my husband. We had to learn French, work on our English, pass the immigration process, and wait, wait, wait for the positive result. But when the goal was finally achieved and we arrived to Canada, we realized this was only the beginning of the challenge. You need to start a new life all over, adjust to the new environment, different mentality of people, find your first job. Even though people were saying it takes around 3 years to adjust at the new place, it was much faster for us. Luckily, we were able to find our first jobs within the first couple of months. Persistence, good English, positive attitude worked at the end. I personally think it's a good thing to be mobile and be able to make change in your life by switching your job or place of leaving. This change may bring some positive points to your life – learning aspect, new people, rich experience.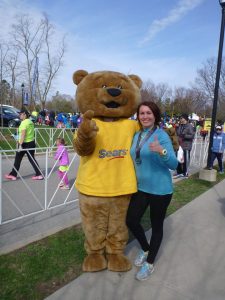 I love challenges and learning, acquiring new skills. Couple of years ago I've signed up for my first 5K running race to keep me motivated to exercise. I've done two 10K runs after that, and it was amazing experience. It's great to see the power you have to get to the end, try your limits and prove yourself you can do it.
My other recent challenge was getting to the top of the highest mountain of Ukraine – Hoverla, 2061m. Hiking to the top took around 3 hours.
In my 30s I've decided to switch my career from Accounting to Digital Marketing. Even though I had a very good feedback from my managers regarding my Accounting skills, I was always missing challenge in my job. My creative skills were not used and I was getting bored at work after some time. I was fascinated by Marketing while studying at Economics University. I could listen to the marketing plans and marketing success stories for hours, and I remembered them easily. So, having Senior Accounting background, good established position on the job market, I've started my new challenge – career change. Well, I should say persistence does pay off. I am currently working as a Sales and Marketing Coordinator, doing Social Media freelancing, pursuing certificate in Digital Marketing Management, blogging, and absolutely love everything I do. I believe it's never late to make a change. Who knows, maybe after another 10 years I decide to be a Nurse or a Zumba Instructor. You never know, my friend, you never know.
At some point in my life I wanted to share some motivation, knowledge and ideas in health and self-development areas. The best way to share it could be blogging, of course. And this is how this blog was created. It took me lots of time to learn how to start the blog, how to design website with WordPress, and all the other exciting things about digital marketing field. It was like discovering the whole new world. And I am glad I did it… Join my small part in this huge digital world – my blog. Follow on Social Media or sign up for updates. And feel free to contact me with questions or ideas of what you would like to read next on my blog. Happy reading! 🙂